As July begins, it's finally starting to feel like summer and whilst we're still deliberating whether it's safe to put away our winter wardrobes, the summer blooms have not been shy in making an appearance. Our gardens across North Lancashire and The Lake District are awash with roses, hydrangeas, geraniums, marigolds and so many other vibrant summer bloomers. We understand that when searching for the home of your dreams, the garden plays a big part. Despite our renowned bad luck with weather in the UK, when the suns out – we make the most of it! This summer, we have been lucky to visit some stunning homes across our area and have pulled together a collection of our favourite summer time gardens, available for sale now with Matthews Benjamin and our sister company Fine & Country.


Nibthwaite Mills, Nibthwaite, Nr Ulverston
Enjoy the benefits of your own private mill pond and 150 metres of river frontage at this 17th century converted mill in the Lake District National Park. Terraced gardens run down to the mill pond and river, offering a selection of private and unique seating areas, settle down on the banks of the River Crake and make the most of the fishing rights at this one of a kind, secluded site.
Halton Green House, Halton, Nr Lancaster
Located amongst the rolling countryside of the Lune Valley, this prominent home boasts some of the areas most luxurious landscaped gardens. Pockets of formal planting and box hedges create a lavish effect to match this extraordinary home with social and roof top entertaining spaces fit for the largest of parties and an impressive pond with central water fountain offering panoramic views over the valley.
Wansfell, Pullwoods, Nr Ambleside
This stunning contemporary apartment is located within the highly prestigious private estate of Pullwood Bay, set within approximately 51 acres of grounds including wonderful lake frontage and a private jetty.
Smithy Beck House, Blawith
This lovely family home is set within 1 acre of private grounds which have been designed with family life in mind. Offering a selection of patios and seating areas perfect for alfresco entertaining during the summer months, the garden extends down to a considerable lawn area, private orchard and pretty oriental pond set along the small beck at the bottom of the garden.
Fell Barn, Slack Head Nr Milnthorpe
A neatly kept garden that is perfect for those families with busy lives. The natural limestone, lush shrubbery and trees surrounding create a wonderful, private haven within this sun trap garden.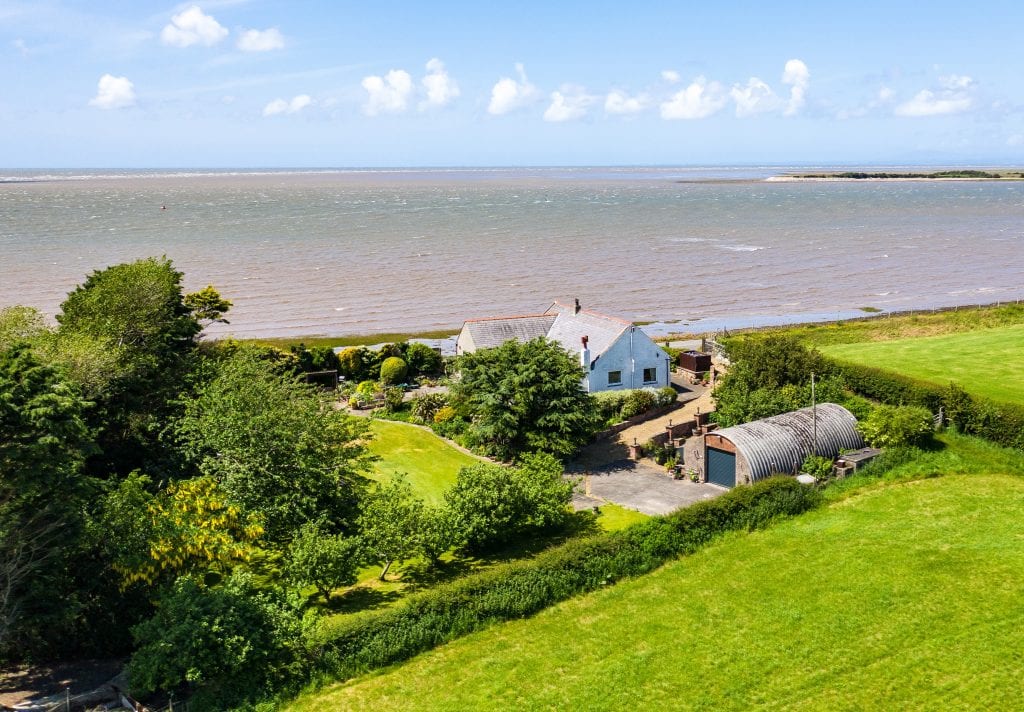 Crook Cottage, Thurnham
Located alongside the shore of Morecambe Bay, the beautiful and well kept gardens of Crook Cottage are a complete hidden surprise. They are also a haven for the local wildlife and have been planted with a selection of seasonal flowering shrubs and plants for a lovely aspect all year round, with iris, foxgloves and oriental poppies to name a few. Keen gardeners and families will be delighted with the space and selection of productive apple and damson trees and soft fruit bushes.
Orchard Cottage, Outgate
Take a seat on the bench and enjoy the stunning view across the private tarn to the national park. Orchard Cottage boasts private grounds amounting to approximately 2.5 acres and along with the beautifully kept, lush gardens there is also a secret garden to enjoy and an orchard.
Ashdown House, Windermere
The garden of Ashdown House is perfect for families, with a simple yet large lawn and patio area for alfresco dining, all shielded by tall trees for added privacy. What is so special about this garden is that it is a rarity to find such a sizeable family garden and home located within walking distance to the popular Lake District villages of Windermere and Bowness.